The article was originally published at the Conversation by Dr Olga Oleinikova, Research Fellow Politics & Director of Ukraine Democracy Initiative.
This article is part of the Revolutions and Counter Revolutions series, curated by Democracy Futures as a joint global initiative between the Sydney Democracy Network and The Conversation. The project aims to stimulate fresh thinking about the many challenges facing democracies in the 21st century.
---
On November 21 2013, massive protests under the European Union flag erupted in the central square of Ukraine's capital, Kyiv. The Euromaidan revolution demanded democratic values and decried the kleptocratic regime of the then president, Viktor Yanukovych. In the next three months, a hundred activists were killed, Russia annexed Crimea and supported breakaway forces in a war that tore apart eastern Ukraine.
Violence continues today. By late 2017, more than 10,000 people had been killed and an estimated 2 million forcibly displaced. Nevertheless, the Euromaidan revolution has resulted in democratic and social gains, but also significant setbacks, for Ukraine.
Four gains
1. The birth of civil society
Euromaidan was the catalyst for the birth of civil society in Ukraine. Opinion polls suggest that, since the protests, Ukrainians have higher levels of patriotism and trust in each other, and are more optimistic about the nation's future. The level of civic activity and desire to contribute to the nation's development have increased.
In October 2015, 41% of Ukrainians reported being more willing to donate (12% were less willing), while 33% were more willing to protect their rights, freedoms and dignity (compared to 8% whose readiness declined). Furthermore, 22% were more willing to volunteer in the local community and 18% reported an increased willingness to join a civil society organisation.
In 2012, 23% of Ukrainians made donations, increasing to 41% in 2014 and 47% in 2015. This growth is significant given the impoverished conditions people faced around the country.
Unfortunately, these civic gains have failed to translate into real political activity. Low turnouts at elections (especially among 18 to 29-year-olds, the most active and educated citizens) and citizens voting according to populist television advertising or accepting "gifts" in exchange for "correct" voting are all reasons for the slow pace of progressive reform, and the even slower replacement of the political elite.
2. The Ukraine–European Union Association Agreement
On September 1 2017, the association agreement between the European Union and Ukraine, which was negotiated between 2007 and 2011 and signed in 2014, finally entered into full force. The agreement is seen within the country as the main tool for bringing Ukraine closer to the EU because it promotes stronger political ties and economic links, as well as respect for common European values.
The hope is that the agreement, including its Deep and Comprehensive Free Trade Area (DCFTA), will provide a framework for modernising Ukraine's trade relations and economic development by opening up markets and harmonising laws, standards and regulations with EU and international norms.
In August 2017, Ukrainian President Petro Poroshenko said:
We have only one road to follow – a wide Euro-Atlantic highway leading to membership in the European Union and NATO.
3. Visa-free travel in the EU
The EU lifted visa requirements for Ukrainians on June 11 2017. The move sparked joy among Ukrainians and raised their expectations for a better future in an aspiring EU member country.
All Ukrainian citizens with biometric passports can now enter the Schengen area without a visa for up to 90 days for tourism or business. However, they are not allowed to work in the EU.
4. Reform program begins
In the summer of 2016, long-awaited judicial reform began. Amendments to the Ukrainian Constitution on the judiciary and a few corresponding laws were adopted. However, it is too early to evaluate these changes.
Ukraine has also taken steps towards greater transparency to combat corruption. Government officials are now obliged to declare their assets and property. The results have displayed a shocking concentration of wealth in one of the poorest countries in Europe.
Ukraine's online procurement system, ProZorro, has already become a global brand, with the World Bank planning to adopt it for its Ukrainian projects.
Still, these efforts are only a small first step towards eliminating corruption. Education, energy and regional reforms are yet to take place. These will require serious financing and take a long time.
Five losses
1. War
Ukraine's decision to pursue a "Western direction" caused a wave of social cleavages in cross-border, multi-ethnic southern and eastern Ukraine. The tensions resulted in the Russian annexation of Crimea and war around two Russian-backed breakaway provinces.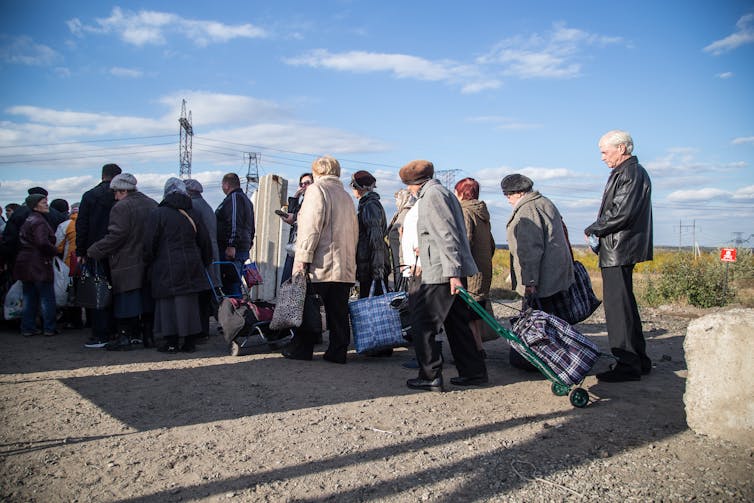 The war has touched every facet of social, economic and political life in the country. Here are some telling facts:
2. Economic decline
Due to the war in the Donbass region and the breakdown of relations with Russia, Ukraine's largest trading partner, the economy shrank by 6.8% in 2014 and 10.4% in 2015, according to the state statistics service. The National Bank of Ukraine stated a 11.6% decline in 2015, while the World Bank registered a 12% shrinkage.
In 2016, the economic collapse was halted as GDP inched up 0.1% in the first quarter and 1.4% in the second. However, these marginal gains were short-lived, as the economy shrank again by 6.1% by April 2017. Even if the economy now manages to sustain 3-4% annual growth, it will take four to five years to return to 2013.
3. Remaining corruption
Post-Euromaidan Ukraine has seen little change in state and institutional corruption. The several anti-corruption institutions created in the past four years are scattered and the country still lacks anti-corruption courts and effective preventive tools. Anti-corruption activists are still subject to prosecutions and attacks.
Ukraine only managed to move up one point in the global Corruption Perceptions Index in 2016 and 2017, ranking 131 and 130 out of 176 and 180 nations respectively.
Disappointment with the government and poverty levels is growing. In 2016, only 9% of Ukrainians were satisfied with the president's actions, with 70% dissatisfied. [LINK to poll] Only 5% were satisfied with the government and 58% were not. And only 2% were satisfied with parliament's performance, with 83% dissatisfied.
4. Setbacks for freedom of speech and the free media
With the war in eastern Ukraine came an information war between Ukraine and Russia. As a result, freedom of speech and the media in Ukraine has significantly deteriorated in the past four years, with unavoidable radicalisation on both sides of politics.
There is little media diversity, as just a few oligarchs control the top outlets. President Poroshenko, for instance, owns his own television channel.
Anti-government views are often deemed "pro-Russian", effectively chilling freedom of expression. The intolerance of opposition media is violently visible. There have been protests and scandal over "pro-Russian views", with broadcast studios being burnt.
Dozens of journalists have been denied entry to Ukraine. Human Rights Watch has urged Ukraine to protect free media and drop its ban on Russian and Western journalists.
5. A wary EU
Ukraine will definitely not be able to become a member of the EU in the next 20 to 25 years, and not of NATO either. – European Commission President Jean-Claude Juncker in March 2016
While Juncker did not explain why Ukraine would have to wait so long, his speech was aimed at reassuring Dutch voters that the association agreement with Ukraine was not a step towards quick EU membership.
In April 2016, 61% of votes in a Dutch referendum rejected the agreement (a 32% turnout was barely enough for the result to be valid), in a rebuke to their government and the EU establishment. The broad political, trade and defence treaty – already signed by the Dutch government and approved by all other EU nations, along with Ukraine – provisionally took effect in January 2016.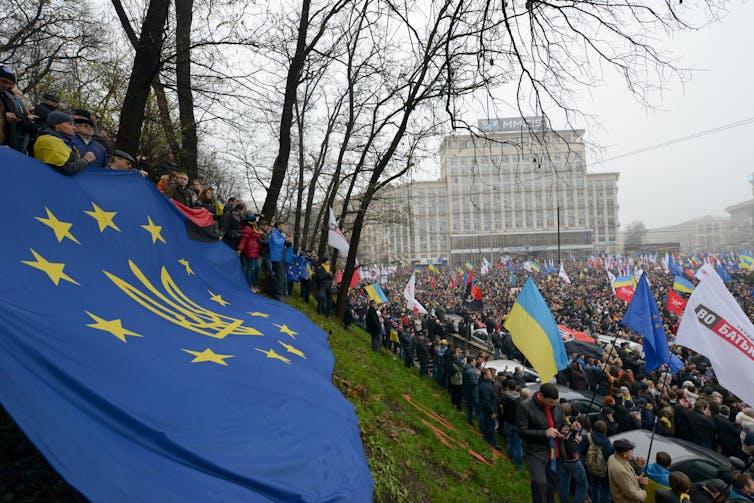 A recent opinion poll suggests that 58% Europeans support Ukraine joining NATO, and 48% support Ukraine joining the EU. But, in 2015, when the first such poll was held, a majority (55%) favoured Ukraine becoming an EU member. Today, the idea is best supported in Lithuania and Poland (68% and 67% respectively), and least supported in the Netherlands (27%). The level of support in France, Germany and the UK is less than half of the people polled.
Evidently, the post-Euromaidan government efforts failed to make the case in the West for Ukraine to gain EU membership. Whether the EU will admit Ukraine (and when) is a big question. Within Ukraine, plenty of work remains to be done to ensure the success of its ambitious plans for economic growth, modernisation and accelerated democratisation.