Photographer: Taylor Weidman/Bloomberg
The article was originally published by Bloomberg, authored Michael Winfrey, Volodymyr Verbyany and Daryna Krasnolutska.

As some of the European Union's eastern members embrace more state-led economic models, Ukraine is turning to the playbook that helped rebuild the continent's ex-communist wing back in the 1990s.
With help from the International Monetary Fund, President Volodymyr Zelenskiy wants to sell state companies, trim the budget deficit and relax rules for land ownership. The ideas have been floating around for years. But unlike the previous administration, this one may have more appetite to implement them.
According to Oleksiy Honcharuk, the 35-year-old head of Zelenskiy's economic team, Ukraine is targeting a staff-level agreement with the IMF in September to replace the loan deal that expires at year-end.
"The IMF is our strategic partner," he said last week in an interview in Kiev. "We definitely aim to get another program."
Honcharuk's comments helped Ukraine's GDP-linked warrants rally for a 15th day. They gained to 85.85 cents, a record since they were issued in November 2015.
Zelenskiy, a TV comic and businessman with no political background, was elected this year in a landslide victory as voters lost patience with establishment politicians who failed to end endemic corruption.
As well as economic challenges, the country of 42 million people remains locked in a Kremlin-backed war near the border with Russia. Tensions fizzled again last week in the Black Sea.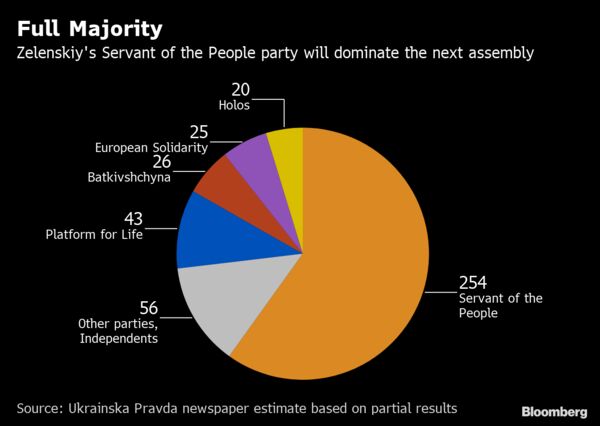 After clinching the first parliamentary majority in Ukraine's modern history this month, Zelenskiy's party will form a government in August, said Honcharuk, who Ukrainian media say is a potential prime minister.
Control of the legislature allow it to pursue market-based economic policies that the likes of Poland and Hungary introduced two decades ago, even as those nations now seek more state sway.
Ukraine wants a three- to four-year IMF program, according to Honcharuk, the former head of an EU-funded think tank focused on improving the business climate. He didn't give the potential volume of assistance.
As the government targets economic growth of 5% or more, the budget deficit must "certainly" be narrowed further, Honcharuk said. Finance Minister Oksana Markarova can keep her job, he said.
Now or Never
Farmland reform, unpopular with parts of society and delayed for years to the detriment of competition, will be approved by year-end, he said.
"There's an understanding in the team that if it's not done this year, it will be quite difficult," Honcharuk said.
Discussions with the World Bank will determine whether to allow purchases by foreigners or limit the size of sales. The most liberal version could boost gross domestic product by more than 3 percentage points a year and the most conservative by 0.5 percentage point.
"We're looking for the least painful but most efficient version," Honcharuk said.
The government will also unblock state-asset sales, which have been hampered by vested interests and fostered malfeasance and monopolies. Minority stakes on offer could include the national railway company and the postal service.
Central Bank
"The banks should be sold first," Honcharuk said. "I want 10 big systemic banks to enter Ukraine."
While U.S. President Donald Trump and Turkish leader Recip Tayyip Erdogan put pressure on their central banks, Zelenskiy grasps the need to respect monetary-policy independence and backs Governor Yakiv Smoliy, Honcharuk said.
"When we show changes in the approach to privatization, farmland sales, when we attract a couple of big companies to extract natural resources — all of those examples will give clear signals that the rules have changed," he said.
— With assistance by Yulia Surkova